Classic MXR Phaser Tones with Extra Tweakability
Whether you're chasing psychedelic Gilmour-ish textures, distorted EVH-style swooshes, or novel experimental soundscapes, the MXR Deep Phase is happy to oblige. This guitar effects pedal delivers the pronounced swirling, scooped mids, and vocal-like response of a 1970s-era phaser stompbox. With its ability to animatedly adapt to your playing intensity, it's dynamic as all get out. And unlike vintage units, there's no volume drop when you engage this effect. You dial in the Deep Phase with intuitive Speed and FDBK knobs; a Mode II switch toggles between a classic 4-stage mode and an ultra-animated 8-stage mode. Finally, the Deep Phase boasts a super-durable — and pedalboard-friendly — MXR mini housing.
Chock-full of classic MXR phase tones
Thanks to its iconic orange stompbox, MXR is famous for its phase tones. The Deep Phase offers crystal-clear sound, along with the pronounced swoosh, mid-scooped tone, and smooth vocal-like texture of its predecessors. You can play it clean for gently evolving textures or park it in front of a raging amp for tasty, distorted modulations. Best of all, unlike its vintage counterpart, the Deep Phase doesn't suffer from a volume drop when you stomp on it. The pedal connoisseurs here at Sweetwater really dig the Deep Phase. It covers all your phaser needs — and then some.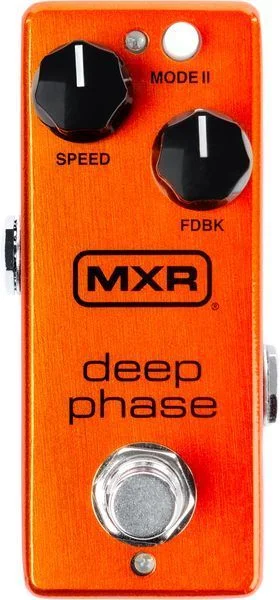 Simple controls unlock a wide range of sounds
The MXR Deep Phase delivers the full gamut of phase tones via a simple 2-knob interface. The pedal's Speed knob adjusts the rate of the effect, while the FDBK — short for feedback — knob adjusts the intensity and sharpness of the phase peaks. What's more, you get a Mode II switch that doubles the pedal's default Phase 90-style, 4-stage phase effect to eight stages for twice the number of peaks for a more turbulent-sounding texture.
MXR M279 Deep Phase Pedal Features:
Delivers the pronounced swirling, scooped mids, and vocal-like response of a 1970s-era phaser stompbox
Dynamically adapts to your playing intensity
Doesn't produce a volume drop when engaged
Speed knob adjusts the rate of the effect
FDBK knob adjusts the intensity and sharpness of the phase peaks
Mode II switch toggles between a classic 4-stage mode and an ultra-animated 8-stage mode
Super-durable MXR mini housing